About Us
We've been serving Atlantic Canada since 2001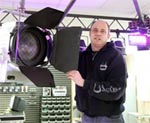 Pascal Dubé has worked professionally in the entertainment industry steadily for the last 23 years. He started working in this industry around Atlantic Canada as a stage hand until he worked up the ladder and became a rigger. He was employed in many films as a rigger and a grip, and has also worked in transport and electrical. He has been involved in many productions as a technical director and a consultant..
Using the knowledge he acquired due to his degree from 'Université de Moncton in Finance and Economics, he created StageCrew Inc. in 2001. He has seen Stagecrew Inc. through start-up, survival, turnaround and growth modes, and has led his company to currently being the #1 labor supplier for the entertainment industry in Atlantic Canada..
In 2009 Pascal add sound to StageProduction Inc. The company is a supplier of sound, lighting and mobile stage. To add to the business, He have also started a retail store selling production equipment with clients ranging all over the Maritimes. They will even do installation. In the same year, he opened a retail outlet specializing in sales and installation of rigging, climbing and fall arrest systems.